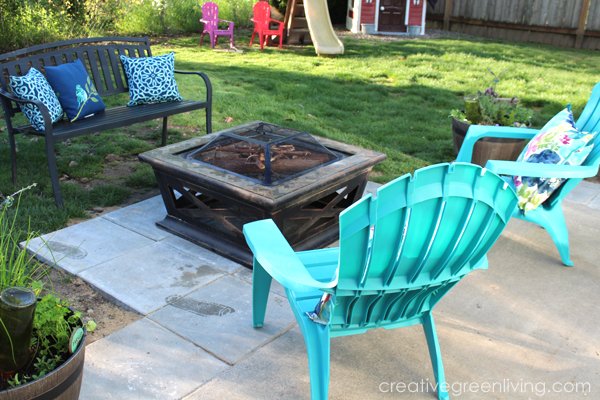 When we bought
"The Farmhouse"
two winters ago, we had big plans for the backyard. Last year we had our first summer here and the only change we made to the outdoors was digging a French drain to keep our sideyard from flooding. Necessary but not very exciting.
Now that the weather is warming up, I am ready to get outside and make my space more enjoyable! When Lowe's asked if I would like to partner with them to show you guys easy budget backyard makeover ideas I was all over it! I had big plans for an easy way to make my patio more livable and I really love how it turned out!
BEFORE
Our house came with a sad, builder grade 10 x 10 poured concrete slab patio that was crowded with a grill, some pots growing herbs and a firepit. During the winter we also move the bench onto the patio to help brace the grill in the event of a wind storm.
The patio is crowded and there is a lot of winter yuck happening here - mud, mildew, rust, etc. This is the view from my back door looking out into the yard.
AFTER
And this is my patio now!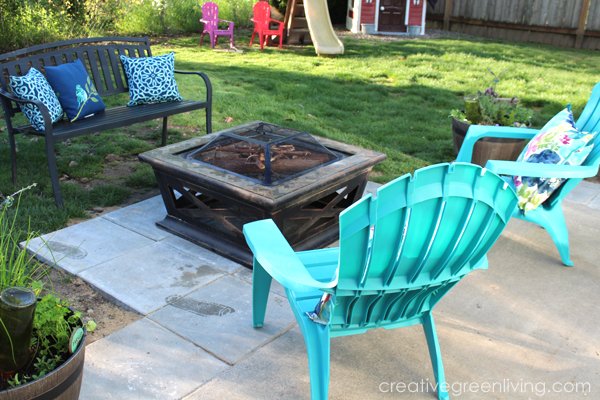 Let's take a tour, shall we?
Pavers
The most dramatic change came from adding 20" x 20" pavers to expand the size of the patio. Adding the paver border to the three sides (the fourth side is against the house) and an extra 2 rows of four pavers to create a bumped out area for the fire pit added a whopping 72 square feet to our usable patio space!
Adding the pavers gave us a good place to move the planters as well as the fire pit. This left only the grill and some new Adirondack chairs on the original patio and everything feels SO much more spacious - and it should since I now have 72% more patio than I did last month!
Power Washing
We picked up an awesome little power washer at Lowe's. This let us blast away the microfilm of algae, moss and mud that had built up on the patio as well as on the sides of the pots and the bench. A freshly washed patio is a great feeling and even just doing this by itself felt like a HUGE improvement!
Fire Pit Clean Up
We already had our fire pit from last summer but it was rusty and not very nice to look at. Instead of tossing it and getting a new one, we decided to save the one we had by cleaning it out and then protecting the metal with high heat spray paint. Now it looks inviting instead of like a junky mess.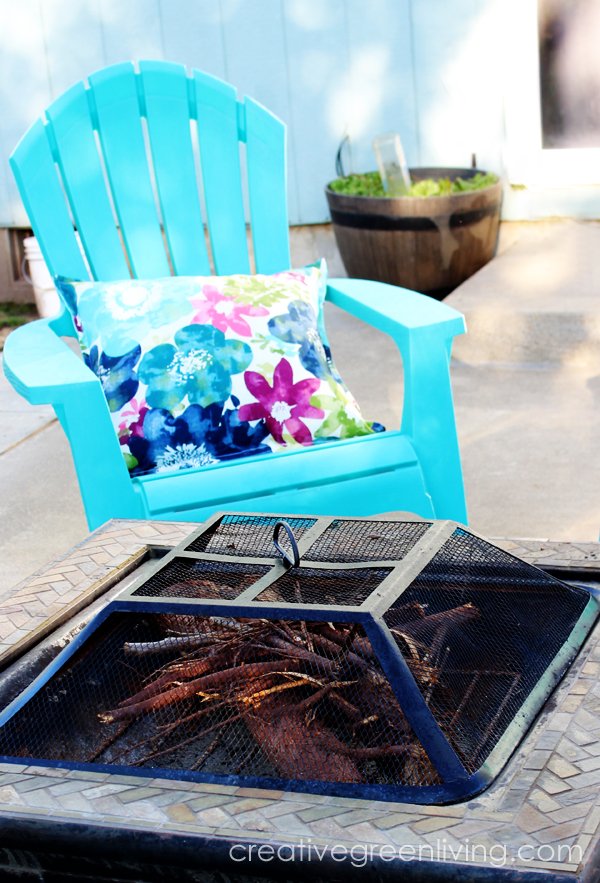 Seating
Our biggest complaint last summer was that we didn't have anywhere comfortable to sit outside! This year, we solved that problem by picking up some colorful Adirondack chairs from
Lowe's
along with some pretty outdoor pillows for both the chairs the bench.
Planters
During the fall and winter, we let our chickens graze in our garden and backyard. Unfortunately, they are also big fans of digging up flower pots. To fix out dug-up pots, I planted a combination of herbs and flowers to add some functional color. Everything in these pots is edible - even the flowers! When I need herbs for sauce or flowers for a salad, I can just pop outside to grab what I need.
Get inspired for your own makeover
I hope I inspired you to get outside and upgrade your backyard space to transform into a functional and enjoyable oasis for you! I got everything I used for this makeover from Lowe's and if you don't have a truck (I do not) there will even DELIVER for you. Everything in this makeover except the pillows was delivered by the friendly Lowe's delivery team, which saved me time and the hassle of having to move the pavers and heavy things myself (until it was time to move them from my driveway to the backyard of course!)
About the Author:
Carissa is a green lifestyle advocate and mom of two active boys. The owner and lead writer for Creative Green Living, she is also the author of
Beautiful Smoothie Bowls (Skyhorse, 2017).
Her goal is to empower families to make easy projects and healthier choices that are beautiful and
delicious!
Follow her on
Pinterest
,
Instagram
,
Twitter
or join the
Creative Green Living community group
.
Do you like this post? Subscribe to our weekly newsletter!
When you subscribe you can download our FREE Recycled Crafts E-book!
Sponsored post disclosure: This post was sponsored by Lowe's. All opinions expressed are 100% mine and reflect my authentic experience with this brand. I only recommend products I personally enjoy and think my readers will as well. For more information, see my full sponsored post and review policy.